I'm a survivor. I'm a cancer survivor, four and a half years and counting. I'm also a divorce survivor, not counting, but it was a long time ago. I've had a variety of jobs, some at which I was successful, some at which I failed, and some that more or less failed me. Looking back on my life, you could say I'm a stupidity survivor. Although I have made some good choices and I have made some really dumb/bad ones, too. There have been bad experiences I inflicted on myself, and some that were inflicted on me by others. And I've done some things right, and at times have been helped or blessed by others, sometimes totally unexpected and often undeserved. I have had my share of heartaches and tears.
Listen deeper to what Paul said, "…count all things lost for the surpassing value of knowing Christ Jesus my Lord." If you are looking at what you lost, mourning it and grieving over it, you are still valuing it. It is part of the "all things" in your life. Count that loss itself, the very experience of it, as loss, for the surpassing value of knowing Christ. Let your experiences, good or bad, gain or loss, all result in your receiving the greater benefit of knowing Him.
No, I'm not saying ignore or even stifle your emotions. I am not saying it is wrong or a sin to grieve over a loss. You will. You are human. You were created with emotions. God is not surprised or offended by your grief. He made you that way. Grieve over a lost loved one. Hurt when a business you invest your heart in fails. Be sad when a child rebels and makes wrong and hurtful choices. Feel your hurt.
At some point, let your hurt cause you to let go a little bit more of the temporary, transitory, tactile, time-bound things that make up this earthly existence. Cling to Him. "For I consider that the sufferings of this present time are not worthy to be compared with the glory that is to be revealed to us."
ALL things in life – good or bad – anything that we just keep holding onto that interferes with our holding onto Him – we need to learn to let go. If we will learn to count both our gains and our losses to be loss for the surpassing value of knowing Him, nothing the enemy throws at us can have a lasting effect on us.
Hebrews 2:14 says that Jesus' death on the cross rendered the devil "powerless." That means literally "of no effect." Of no effect is working all day on a task and accomplishing nothing. It would be like running your lawn mower over your yard, motor running, blade spinning, but not cutting any grass. More familiar to most of us, it is like working for a couple of hours, entering something on your computer and closing the program without ever saving your work. You did the work, but there were no results – effort without effect.
People make fun of Christians because they believe in God and say he heals. They ask, if He heals the sick, how come He never grows new arms or legs on an amputee. Now that would be a miracle! Well, in the first place, they would not believe if God brought someone back from the dead to tell them about Him, and He knows it. In the second place, and more pertinent to this blog post – it really isn't about sick or amputee and healing or not. What it is about is Satan's purpose is to interfere with man's relationship with God – with your relationship with God. He does not cause sickness, broken relationships, wars, tsunamis, amputations, or anything else just for the sake of inflicting pain and suffering. It is to keep our attention firmly fixed on things we experience with the five sense. It is to make us look at temporal, earthly things, and keep our eyes off the eternal.
When our focus is on knowing Christ Jesus, and we count all things as loss anyway, even the things the enemy throws at us will result in our knowing Christ. It is the opposite of what he is trying to accomplish. Satan is made of no effect. The results he was seeking to accomplish never happen.
This is the crucified life in practical application. This is being crucified with Christ. Over time, I will share more on this – some insights that work together to help make this easier to accept and, as a result, at least a little easier to do. It really is easier said than done. A lot of this at this stage is foundational. Knowing Him definitely is a foundational principle for Christian living. It should be our top priority, and nothing else is of greater value.
The amazingly wonderful thing is: God is willing to be known by us. He "is." He exists. And, He is a rewarder of those who seek Him.
Can you share an experience when you learned through pain or loss to know, trust and love God more?
Trish and I have two beautiful Appaloosa horses. Rocky and Domino are intelligent, strong, and almost trained. It is not a good idea for people with little knowledge of horse training to take on training an untrained horse, much less two. We intended to work with them some when they were young, but to have them professionally trained. There have been so many things that have competed for our time and money, that so far, we have been the ones training them. We have had some help from friends. But their training has been far from consistent. Not long term anyhow. We would stay with it for months at a time. Then something would happen. Once, Domino got a cut on his leg running through the pasture at night – apparently from a tree limb that broke off during a thunderstorm that night. Another time Rocky was limping, apparently from a stone bruise. Then there was my bout with cancer. Winter always throws us off pace. It could be argued that if we were serious about it we would either find a way to be consistent, or we would find a way to hire a professional trainer.
But then, that's true of about everything in life, isn't it? We give time and attention to the things we really believe in, the things we consider truly important? Sometimes there are setbacks and delays, but we make it happen? We keep after it until we attain the goal?
This is totally from my heart. I need it. I hope it speaks to all who read it. It's written to anyone with a heart to receive, including myself, my wife, my children and their spouses, my grandchildren. I honestly doubt most of them will even read this. As I write it, I am praying, and pleading.
God loves you. He loves you dearly, deeply, passionately. He longs for you to love Him with the same fervor. He is contending for the affection of His people. That's you and me. Don't you see?
Yeah, I know. You love God. So do I. But let's be honest. When it comes to how we live out our lives, day by day, moment by moment, there are a lot of things we give our love to. There are a lot of things we "cherish" or value more than we do Him. We say we love Him with our lips. The way we live our lives, the things we do, the things we focus on, tell a different story.
And why not? Those things are tangible. We can see them with our eyes, hear them, taste them, smell them, touch them. Entertainment. Books. Food and drink. Jobs. Money. Education. Girl friends, boy friends, spouses, children…. They are all so . . . here. They bring us meaning and pleasure (usually). Even when they do not please us, they are at least a real world experience.
Paul spoke of "the surpassing value of knowing Him." What we value, we spend time with. We treat it with respect and tenderness. What we value, we say nice things about (praise). What is worthy of being valued by you? What is more worthy of being valued by you than He is? All things are eclipsed by the surpassing value of God.
"Without faith it is impossible to please God, for he that comes to God must faith that He is, and that He is a rewarder of those who seek Him." First, believe (faith) that He is. That He exists. Then, believe that He is a rewarder of those who seek Him. What greater reward is there for seeking than finding. He wants to be sought. He is willing to be found. He will make Him self known to the seeker. Seek Him and He will reward that effort.
We are talking about a God who has a song that He likes to sing about you. (see Zephaniah 3:17). He created you for fellowship with Himself. He desires that everything about your life be to the praise of the glory of His grace. He wants you to enjoy Him.
God is not trying to make you miserable and take all the pleasure out of your life. He is simply trying to help you realize that you are settling for some really meager pleasures offered by the world. He is offering you Himself. He is offering you the greatest pleasure and joy that can possibly be experienced. "In Your presence is fullness of joy. At Your right hand there are pleasures forevermore."
What do you have going for you? What things are in your favor? What can you lay claim to that give you a sense of status or importance?
I was born and raised in a Baptist, church-going family. I was a "good kid" – a leader in the church youth group, class chaplain through most of high school. I helped found a Christian service club at the school. I was "called to the ministry," attended a Baptist college – majoring in Religion and minoring in Greek. I married a Baptist girl who said she was "called to be a pastor's wife." Great fit since I was going to be a pastor. In addition, she played piano, I played guitar and we sang and harmonized well together.
Paul described the things he had going for him in Philippians 3:1-11. He concluded: "But whatever things were gain to me, those things I have counted as loss for the sake of Christ…."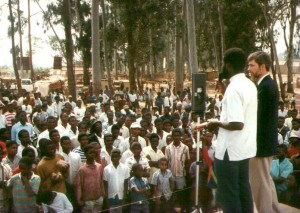 My good name was gain to me.  So was the respect of my peers and loved ones. Serving the Lord "in the ministry" was gain to me. Knowing what I was going to do with my life was gain to me. Having a wife who shared that ministry was gain to me. So was going to seminary.
And, I pretty much lost it all. The marriage was a little stormy, mainly because she married me to get away from her alcoholic parents and "hoped the love part would come later." After a few years, she decided she wanted out and left. (That's the short version. Relationships are always more complicated than that.) At any rate, all those dreams, all those things I counted as "gain," slipped through my fingers.
"My sheep hear My voice, and I know them, and they follow Me…. and no one shall snatch them out of My hand" (John 10:28). Over time, because He never let go of me, I realized that I had been clinging to all the trappings the world could offer a young man entering the ministry more than I was clinging to Him. Because He never let go, I learned that all those things I had been clinging to were temporal – including "the ministry." (One hopes "ministry" will have eternal results, but the ministry career itself is temporal.)
Whatever you are clinging to: a job, a ministry, "the" ministry, your parents, your spouse, or children, or siblings, a house, a car, a pet, a possession, lots of possessions, money, or even your own life – let go. Fall into the Father's arms. Nothing can snatch you from there. Cling to Him. Seek Him first and His righteousness, and everything else you need in life will be added back to you. Quit trying to get your needs met. Meet Him. Love Him. Seek Him. Know Him. Count all those things you have considered to be gain, or a benefit to yourself to possess, as loss.
Most of my life I have sought opportunities to minister. I have wondered how I "fit in" in church. I'm learning to let go of even that. I'm learning to just seek Him.
Have you had an experience that caused you to lose something you once thought was essential to success or meaning in your life? How are you dealing with that loss?
Another of my friends from high school passed away this week. It's hard to believe someone so young could be gone. Okay, so we aren't so young anymore; but still, we aren't all that old either. Anyway, Diane is with the Lord she loved and served all her life, even through a prolonged illness. Her husband and family are grieving their loss, and hoping the pain will subside. Why? Why couldn't she live another 20 or even 30 years?
In 2009, I was diagnosed with and treated for cancer in my throat. The saying is, from the time you're diagnosed, you're considered a "survivor," every day you live. During and after my treatment, I met a number of other survivors. Some were still in treatment. Others were a few months, two years, even three or more years out from treatment.
Most of them had stories of how their family pulled together around them to support and care for them. Others had friends who stepped in to help and encourage them. One couple had an "It takes a village" sign that listed family, friends, co-workers, and care-givers who were making a difference in their lives as they walked through the cancer experience. Almost all of them had a new appreciation for life and a joy that defied the life-threatening, scary disease that so rudely interrupted their lives.
The colored scarves represent the type of cancer – pink for breast cancer; orange for leukemia, etc.
"Why?" is usually the first question out of our mouths when anything bad happens. When we feel devastated, hurt, confused – we want to know, "Why? What am I supposed to learn?"
Separation/divorce, rebellious child, alcoholic family member, abuse, injuries, disease….
We can cop out and say, "If God is all knowing, all powerful, and loving, He would not allow this. If He could stop it, surely He would. Since He doesn't, He's either cruel, so I want no part of Him; or He doesn't exist at all." It's sure a lot easier to respond that way. When faith is challenged, it's hard to hold on.
The truth is, we are going to hurt. We are going to experience physical pain, emotional trauma, and faith-challenging hardships. We are going to experience the whole range of human emotions. And that is okay. It is the way we are made.
When I am really hurting, or when you are, the last thing any of us wants or needs is someone, especially someone who has not already invested time and love and relationship in our lives, telling us to, "Cheer up. Everything is going to be alright." "God works all things for our good." "Don't be sad, they're in a better place." No matter how true those words may be, at that moment, there is no comfort in them.
One of the goals of this blog, and of my hope-to-one-day-have-published book, is to deal with the question, "Why?". Over the coming days, I hope to offer some meaningful insight into how to understand and respond to life – both the good and the bad of it. Here are some thoughts to start the process.
The answer is really pretty simple. Maybe I am being too simplistic. Then again, maybe "simplistic" is just exercising the "faith of a child." Children don't question a lot, they just trust. Maybe it is time the body of Christ "simply" accept what God is doing. Maybe, the problem is, we fail to realize that God really is doing something. Sometimes, we live as though we do not really believe that God is actively doing anything.
Too often we base our conclusions on only those things that are obvious to our five, frail, physical senses. And, much of what we observe is not good. In addition, we compartmentalize our lives, separating the spiritual from the everyday. We look at the everyday stuff as the real world and the spiritual as, well, spiritual stuff. It's kind of nice. It's probably important. But, we are not really sure what to do with it. So we "be spiritual" from time-to-time – Sundays, maybe Wednesdays, maybe for a few minutes "quiet time" most mornings.
In addition, we compartmentalize aspects of our spiritual lives. There are the things that have to do with spiritual growth – truths about what God has done for us and will do in us and through us, and about spiritual growth and maturity. Then there are the practical everyday things about how we are to live and minister in the "real world." We talk about the cross, denying yourself, resting in the Lord, faith…. Then we talk about ministry, witnessing, discipleship, prayer and other aspects of the Christian life as a separate line of teaching – and never the two shall meet.
What we forget is that the "spiritual stuff" is the foundation, the motivation and the power for accomplishing any of the "practical stuff." Paul said he only preached "Jesus Christ, and Him crucified." Look at how "practical" much of Paul's teaching was. He was not saying he only preached evangelistic messages. He was saying that the cross of Jesus is key not only for salvation, but for how we live. It has implications for all of the Christian life. The cross of Jesus is the power (the ability, the inherent capabilities) of God Himself released in those who are being saved (1 Corinthians 1:18).
Start the dialogue. Have you ever found comfort in the words of the Bible when you faced a difficulty? Has anyone ever particularly ministered to you in a time of loss, grief or failure? What did they do? How did they help?
If our righteousness is to exceed that of the Pharisees, how does that affect the way we "do church?" Or does it? What about ministry and evangelism and discipleship?
A friend of mine, J. Guy Muse, wrote an interesting blog recently that got me thinking. Guy's recent post dealt with whether house churches, and to a degree churches in general, were meant to be permanent. Here's a link to his post: http://bit.ly/1cJSEGY. I tried to respond in the comments on his blog, and for some reason, probably because I'm not really good at posting things through my cell phone, it didn't go through. It gave me a few more days to mull it over, and here are the results.
In the American church culture, most believers are involved in missions by going to church and giving their money to support the professional Christians – the church staff and missionaries, either sent by that church or by their denomination – to do ministry. Their own involvement is generally limited to teaching a class at church, participating in a church sponsored "visitation" program, and maybe a mission trip to another country.
Guy is a missionary in Ecuador. His ministry took an unexpected turn about 15 years ago when the mission board encouraged missionaries to look at alternative methods of church planting. Guy and some other missionaries in Guayaquil found themselves facilitating a burgeoning house church ministry. Someone is led to the Lord, is excited about it, and wants their friends and family to hear the gospel. Rather than invite them to church, the new believers invite their friends and family to their home and share their new-found joy. Others come to the Lord, and the process is repeated. After an explosive beginning, from a couple of house churches to 60 to nearly 300 in a matter of months, the number of churches began to level out. The ministry continues, but the number of "churches" is not increasing. New house churches start. Some older ones cease. In his blog, Guy referenced a 2009 article by Felicity Dale that suggested that maybe house churches should be debriefing and sending centers. Guy suggested that maybe it's okay if a church is not permanent.
House church in the United States is different from what missionaries have seen in many "Third World" countries. Here, people drive 30 miles and more to participate in a house church. They may meet in different members' homes each week, or in the same home every week. They sing some songs, pray together, and have a teaching/Bible study/devotional. The worship may be much more free and open, the praying more personal and intense, and the devotional more of a mutual sharing than a one person lecture than what they ever knew in the institutional church. But, it's still pretty much church meeting on a smaller scale. It's having church in a home – kind of mini-church, or "church lite." There is rarely any evangelistic outreach. People still tend to shop around and find a house church that fits their idea of what it should be or which ministers more to their family's needs or fits their personality and/or understanding of the Bible….
The increasing numbers of people "doing home church" is more because of dissatisfaction with the institutional church and not a result of reaching the lost or unchurched. The numbers of people leaving the institutional church for home church and the popularity of "cell" churches in the 1980's-90's, has caused many churches to modify their traditional programs and at least rename them as "small group ministry." Usually, it's still just Sunday School, or children's ministry, or youth ministry under another name. Sometimes they add a few cell groups – maybe specific to particular occupations or other shared interests or a local community. The emphasis is still on meeting and teaching through the traditional methods.
Extreme righteousness, that which exceeds, demands that we take another look. I can speculate and come up with a number of reasons why we are willing to drive so far to go to church, why both institutional and house churches are growing or shrinking because of members moving from one church to another rather than because we are being evangelistic. Over the years I have become convinced that the biggest failing of the church is in failing to truly equip the saints to do the work of the ministry. We are still engineering some version of the Christian life primarily expressed in and through the institution, rather than equipping the saints to live and be the church and do ministry.
If the church is going to have an impact in an increasingly secular world, we may have to let go of the idea of being permanent. Jesus said to find your life, you have to lose it. We understand this in regards to salvation. To some degree, we apply it to discipleship. Maybe what's true of the individual is true of Church as a whole. I'm not suggesting we need to shut down our local churches, abandon our buildings, etc. Even if that were the ideal solution, it isn't going to happen. We do, however, have an opportunity to become more effective at what we do if we will equip individual Christians to be the church. We should send them forth to minister in every way possible in their day-to-day lives. Release them to miss a few "services" at the church building in order to serve their family, friends, and neighbors. On their jobs, in their neighborhoods – as they go, make disciples. Then they can come back together with other believers – the church, whether it's in a traditional building or a home – to debrief, to enjoy corporate worship, to be encouraged, nurtured and nourished, and to be sent forth again.
It fits with the Great Commission. The word "go" is not an imperative. Jesus didn't command His disciples to "go!" in Matthew 28:19-20. It's a participle, an "ing" word that suggests an assumed action. He says, "Therefore, going…" or "As you go…." He didn't have to tell them to go. He knew they would be going. The command is "make disciples." It should be a part of our daily going and doing.
What do you think? Are big buildings, technology, and stage show worship services the way to reach the lost? Is this "making disciples?" Where is the responsibility and opportunity of the individual Christian in fulfilling the Great Commission? What can the church do to better equip the saints?