When you glue two pieces of paper together, you cannot get them apart again without some tearing and without each one losing a part of itself – forever a part of the other.
I do not usually deal with specific issues on my blog.  I would much prefer to present the spiritual principles and truths and let you learn to apply them in your own life situations. However, this is one I want to throw out because people about whom I care have recently dealt with or are dealing with this.
I've been there, too.  I know the pain of marriage that just doesn't seem to be working, of an unfaithful spouse, of facing my own failures and inadequacies in a relationship, and of going through a divorce.  When you commit to someone in marriage, you are like two pieces of paper glued together.  You cannot divorce without feeling torn, tattered, and hurt.  You feel the loss not only of the other person, but of part of yourself.
In Genesis 2:24, in the story of creation, God created woman out of man and "for this reason a man shall leave his father and his mother, and be joined to his wife; and they shall become one flesh."  That message of Scripture is the same and it is true whether or not you believe it is historical or just part of the "creation myth."  The principle was established in the beginning – husband and wife were made to be one.  Referring to this passage, in Matthew 19:6, Jesus says, "So they are no longer two, but one flesh.  What therefore God has joined together, let no man separate."
Yes, we could argue specific cases involving adultery, abuse, crime, and so forth.  Even in those cases, my point is:  there is still going to be tearing and hurting and loss caused by the divorce itself, in addition to the pain and hurt that led up to it.
I am not telling you to not divorce.  That is something beyond the purpose of this blog and I will not be baited into that discourse in this context.  That is something you need to work out between you, your spouse, and your Heavenly Father.  Just be aware that a divorce is not a quick fix to the problems of your marriage.  Divorce brings pain all its own.  You need to be very sure that your marriage cannot be fixed, that you are aware of the additional pain and problems that come from ending a marriage, and that it is really worth more to you and everyone else affected by it to end it rather than fix it.
Beyond any shadow of doubt, what I have shared throughout this blog about trusting God and giving thanks will see you through whatever crisis you face.  It isn't a magical quick fix.  You are still going to deal with hurts and sorrows and all the other emotions of life.  By no means am I discounting the pain you feel.  Cancer, divorce, loss of job, loss of loved ones, PTSD, illness or injury, abuse, bullying, loneliness….  There's no way I could list every possible hardship.  The ultimate answer is the same.  It comes down to learning to embrace all of life – the good and the bad, and trust God to bring you through.
The principles don't change just because the experiences differ!  We all have a limited number of emotions with which to respond to life.  (You did see the movie "Inside Out," right?)  And, quite frankly, all this stuff about "You don't understand because you haven't been through what I'm going through" is a bunch of malarkey.  If you want to define "what you're going through" narrowly enough, then no two people have ever had exactly the same experience.  So, you can find away to isolate yourself all alone in your misery if you want to, and refuse anybody's help.  The truth is, there are a lot of people who have been through similar things.  And there are many more who have been through things just as intense.  We all had to figure out how to respond based on the basic list of emotions available to each and every one of us.  Find people who have dealt with their crisis effectively and learned valuable spiritual truths from them.  Don't look for people who share your despair and will encourage you to make the easy, self-centered, and self pitying choices.  It isn't nearly as important that you become "emotionally stronger" as it is that you become spiritually stronger.  Spiritual strength will lead to emotional, and even physical renewal.  Focusing on the emotional or physical allows you to make the wrong choices, but temporarily feel good about it.  Eventually, you'll realize your still a torn piece of paper, and you lost a few pieces of yourself along the way.
When Peter got out of the boat and walked on water, yes, he looked around and saw the storm stirring up the waves.  Yes, he got scared and sank.  Yes, Jesus reached out and pulled him up.  No, the storm did not stop immediately.  The Bible says the storm stopped "when they got into the boat, the wind stopped."  Jesus walked Peter back through the storm to the boat, asking him along the way why he doubted?  He's asking us the same thing.  The problem is still out there.  But, He's walking with us, asking, "Why did you doubt?"  The storm hasn't stopped, but it will.  Walk with Him.  Know Him.  Trust Him.  Be thankful.
Large white flakes swirled and spun and painted the landscape a beautiful winter white. It started falling early on Saturday. The snow was supposed to be light – probably just flurries – maybe a little accumulation on grassy areas. Instead, it soon turned into a winter wonderland. Or, as I posted with a photo on Facebook – "Narnia, OK." What made it even better was, our family had chosen Saturday to get together and celebrate Christmas. It was a beautiful snowfall. The weather had been warm for December the previous few days, so the roads were drivable. We had a beautiful white Christmas, and we were still able to get together with family.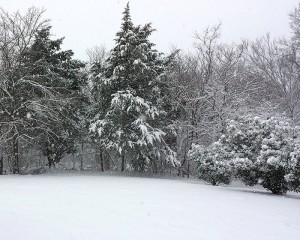 Family dynamics do change when your children grow up. Our daughter, Sarah, with her family, in El Paso, would not be able to make the trip to Oklahoma at all this holiday season. Neither would our oldest grandson, Joshua. Our son, Tim, in Missouri, with his family, would not be here until Saturday. So we told our other two, Adam and Elise, to enjoy Christmas Day with their own families however they wanted. They all have small children, and we remember the delight of watching our children on Christmas morning in our own home. Besides, there is enough pressure around the holiday season without the added pressure of feeling like you have to load up food, presents, and children to be somewhere to please someone else. Christmas day, on Thursday, was a quiet day at home for Trish and me. But it was the weekend with family that made this one of the best Christmases ever.
Tim and most of his family, drove in Friday evening. Some of them stayed at my Mom's house, where we would gather on Saturday. Granddaughter, Alisha, and her new husband stayed at Elise's house. Grandson, Daniel, has fond memories of waking at Nana's house to the smells of breakfast cooking and the sounds of music. We have two spare bedrooms now, he and his girlfriend each had a room at our house.
Saturday's Christmas gathering was mostly typical for us. We started a little later by not all trying to make it to Grandma's for breakfast. Instead each household did breakfast on our own. We got together at Grandma's after breakfast, shared gifts, then ate lunch, and just hung out together. The older grandchildren went out for a snowball fight and built a snowman. Then we shifted from Christmas mode, and went to Adam's house for his three-year-old's birthday party. All-in-all, it was just a nice day.
Whenever your family asks what you would like for birthday or Christmas, there's always "stuff" you could use. There are probably some things you might like to have, but wouldn't necessarily just go out and buy. I'm like that. Problem is, stuff just doesn't mean that much to me. What I really enjoy about Christmas is watching my family enjoy being with and interacting with each other. I enjoy seeing their joy. However, there is one thing I have longed for but never wanted to impose on my family. We used to sing together mainly as part of getting together with other Christians for home church. I would love to just sit and worship the Lord together. I just wanted the idea to come from them, to be something they wanted.
Sunday, Tim's family was planning to head back to Missouri around noon. They planned to come to our house for breakfast. Tim had given me new guitar strings for Christmas. I got up early Sunday and restrung my guitar, and sang for awhile. Trish and I had breakfast with Daniel and Kaitlyn, and had just finished when the rest of Tim's family arrived. Adam and his crew came to visit, too. I was back in the den tweaking the tuning on the new strings.
As the family finished eating and filtered into the den, we began talking about what God's been showing us, and about songs. We sang a few together, and it was truly sweet. To me, that's what made this one of the best Christmases ever. Having the whole clan here would have made it even better.
But there was one more thing. One of the songs we sang, written by our friend, Dennis Jernigan, says:
I will run to the arms of my Father
Like a lost child gladly found!
Run with joy to the arms of my Father
As He lifts me from the ground!
And He throws me high and He catches me
Like He can't get enough!
And He laughs with me!
And the look in His eye!
The look in His eye!
He just loves me!
Sunday night I had a dream. I was standing in front of God.. It wasn't a clear image of Him, but it was God, and we were happy together. He picked me up and tossed me in the air like a father and child. I remember thinking, I'm a grown man, and here I am in the air, looking down, and free-falling. Then what vague physical image I had of God faded away altogether as I was falling toward the ground. There was an brief flash of "that's not good." That was immediately followed by, "It's okay. It's God. I don't have to worry. He'll still catch me. I can trust Him." Then I felt His hands catch me, and we laughed together. And I thought, "That's what faith is."
Now that's a nice ending to Christmas.